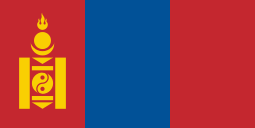 Exotic, barren, desolate, cold, sunny, vast, and welcoming. Visit Mongolia once and it will stay in your heart forever.
Here are 10 reasons this ancient land is so intriguing:
Mongolia is landlocked, sandwiched between Russia and China. Its capital is Ulaanbaatar, or Ulan Bator, or UB, means Red Hero. Founded in 1639 as a movable monastery, it changed locations 28 times before it was settled permanently at its present site in 1778. Technically, the country is actually Outer Mongolia. Inner Mongolia is still an autonomous region within China.
Mongolia celebrates its independence twice: on July 11, the date they won freedom from Chinese rule in 1921, and on November 26, the date the first constitution was created in 1924. July 11, Independence Day, kicks off the 3-day Naadam Festival.
Mongolia is one of the world's highest countries, with an average elevation of 1,580 meters (5,180 feet). With an average temperature of -1 degree Celsius, UB is the coldest national capital in the world.
Mongolia is the most sparsely populated nation in the world, with only 4.3 people per square mile, most of whom live in the capital of UB. Horses outnumber humans by 13 to 1, and sheep by 35 to 1.
The literacy rate in Mongolia is 99%, far greater than Canada or the United States. Most citizens are less than 18 years old and the average life expectancy is 65.
The two-humped Bactrian camel is native to Mongolia. The annual Thousand Camel Festival is run by a private group working to protect and preserve the Bactrian population, which has been steadily declining over the past 12 years.
Snow leopards are native to Mongolia and about one-third of the world's population live there. These elegant, endangered cats come with their own snowshoes and scarf—wide, fur-covered feet, and a tail they wrap around themselves to keep warm. They can't roar but they can leap up to nine metres.
Wild horses of Mongolia are called Takhi which means spirit in their native language. They're actually a distinct species because they have 66 chromosomes, two more than all other horses. The Takhi is considered the world's only genuine wild horse.
According to one unsubstantiated but interesting legend, Mongolian horsemen can be thanked for inventing ice cream. They carried cream in sacks made from animal intestines. The constant, vigorous shaking as the horses galloped across the frozen land created ice cream. News spread throughout China and when Marco Polo caught wind of it in 1295, he took it to Italy, where the treat quickly caught on and spread.
Mongolia's national drink, fermented mare's milk, is called airag. People living in the Mongolian countryside will always have a bowl of warm, salty milk tea ready for visitors.
The Bonus Fact! Rene visited it on his big trip and captured its allure on the cover of The University of Gravel Roads.