For years, Beth Dixon rarely took photos on her regular long-distance motorcycle trips. She thought there was nothing to make them interesting. Until a friend gave her a monkey and told her record where the monkey goes.
Named Monkey, he's not anatomically correct but she considers him male. From humble beginnings, Monkey's gone on to create a Facebook page, which has more friends than Beth. When she and her partner Flash travel, it's Monkey's page that documents their adventures.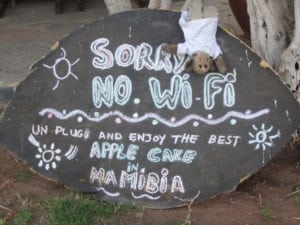 "He's gone on trips with me on motorcycles and in cars. In 2005 he came with us on a safari through Tanzania, a stop in Zanzibar, and a visit with friends in Johannesburg. The next spring he was with us in Cairo. He's flown to the Isle of Man, Viet Nam, Ecuador, and Patagonia with Flash. Although he's usually well behaved, he can get into trouble. Like the time someone photographed him sitting beside a beer at the lodge.
"Monkey's a real conversation starter, especially when Flash or I are traveling alone. We've met interesting people whose curiosity prompts them to start a conversation. Once a three-year-old monkey-napped him in an airport and ran off. He wasn't gone long until the child's mother brought Monkey back.
"He's a good traveller, never complains, and fits in a tank bag or the back of an airplane seat. He rarely gets bored, never complains about accommodations or food, and doesn't eat much. He does have a way of attracting cute young girls."
Beth began riding in 1991, well before her Monkey days. Since then she's ridden extensively in the United States, often solo. Until the Victoria Falls to Cape Town safari, international travel was as a pillion or via other transport. The Renedian trip was the first time she'd piloted a motorcycle outside of the U.S. and her first organized tour.
"I didn't have that level of confidence that I can just rent and ride. I'm short, 5'3". This was a big push for me to trust I could do it.
"Even with a lowered bike with a lowered seat, I dropped my bike the first day getting out of the hotel," she said. "We were with a group of friends, some of whom we'd known for 20 years. They and Rene and Jan were great, making light of my spill. We picked up the bike and kept going.
"The whole experience was excellent. Flash and I could have done the same trip on the same roads via independent travel. But we wouldn't have known why the people lived there or what was important to them. We wouldn't have learned about the local industries or the area's political background. Not without investing a lot of effort. It was nice to have stops and accommodations planned so we could enjoy the moment.
"Of course, I take a lot of more photos now because of Monkey. Without him, we would never have stopped at the fascinating Stone Sculpture garden near our Victoria Falls Hotel. In typical fashion, he managed to get front and center on our group shot at Cape Agulhas."
When she decided to go on the trip, she resigned from her position as a university instructor. She couldn't take four weeks off at the beginning of a semester and there were other changes in the air. Her Masters degree in accountancy has allowed her to focus on her profession as a tax accountant. The work is online so she can do it from wherever she is.
That's going to work out well with plans she and Flash see on the horizon. Next summer when they move to the Isle of Man she can continue working for her CPA firm.
The new location puts them in range for exciting riding opportunities. "Adventure riders from all over Europe have put together a Trans-European Trail system. It maps 34,000 km of dirt trails, places to stay, and points of interest, from the edge of Africa to the Arctic Circle. We're taking our bikes so we can explore it."
Wherever she goes, you can bet Monkey will be there to tell the tales.
Photo credits: Beth Dixon