When Cathy Knelsen learned to jump over a log at an off-road riding course with Clinton Smout's S.M.A.R.T. Program, never in her wildest imagination did she dream she'd be using her skills to ride over a Cobra.
That she was in Africa on a motorcycle was a surprise to everyone, including herself. National Geographic documentaries had spawned an interest in the continent but it was safely tucked away on a to do list, to get to sometime. In her late 40's, travel away from her Barrie, Ontario home had been limited to cruises and motorcycle trips in Canada and the U.S. with her husband. "The safe things," as she calls them.
[half]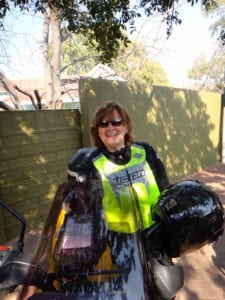 [/half][half]
[/half]
Then in February 2012, she got an invitation from Budds' BMW to an information session for a Waterfalls and Wildlife group they were putting together. Even driving 90 minutes to meet in a stranger's home was outside her comfort zone, but curiosity prevailed.
Meeting Rene and others who would be on the trip allayed her anxiety and inspired her to sign up. Colleagues of the Court Transcriptionist who knew of her aversion to trying anything outside of the box, reacted with disbelief at her news and kept telling her she wouldn't pull it off.
Even when she'd paid in full and was getting ready to board the shuttle bus to the airport, she thought about backing out. Not only did she complete her mission, she booked another trip as soon as she returned home.
At 5'1" it wasn't the bikes that frightened her. She was comfortable on her factory lowered BMW F800S and had been riding for over 20 years. It was everything else. "I feared travelling so far, travelling alone, getting lost from the group, my bike would break down, I'd go left when everyone else went right, I'd crash, or contract some weird African disease."
Fortunately she'd met the group before departing and "it was like we'd been friends for life." Once she got herself to the plane, she settled down.
[half]
[/half][half]
[/half]
[half]
[/half][half]
[/half]
Ostriches in their natural environment topped Kathy's list of animals she wanted to see. Concerned at first she wouldn't see even one, she stopped counting after 56 ostrich sightings just along the roadway. She even had an up close visit with one. A GoPro carrying rider two bikes behind captured 3-4 of the big birds running along side them, one of whom darted between her and the next bike, safely evading any mishaps and crossing the road safely. The video capturing the seemingly orchestrated maneuver was dubbed Ostrich vs. Chicken.
[half]
[/half][half]
[/half]
Kathy's second trip was as part of a Motorcycle Mojo Magazine group to Spectacular South West Africa. She's often asked to compare the two trips, but says it's like comparing apples to oranges. "It was incredible seeing the Indian and Atlantic Oceans coming together," she recalls. "As we toured the countryside, each area was dramatic in its own way. The red gravel, dirt, and boulders reminds you of Mars. You drive out of that and you're into winery country with lush vegetation. Then you're right beside the ocean looking down on it."
[half]
[/half][half]
[/half]
One day they were out in the middle of nowhere, bikes spaced out to let the dust settle and she saw a ridge across the road. Her first thought was that it was a speed bump but then realized that didn't make any sense. She then reasoned it must be a tree branch. Except there were no trees in sight. When she was 10 feet away, it moved and she recognized the cobra. "I remembered what I learned on my dirt bike course—stand up and take it, so I did and bounced over it.
"North American media makes Africa look big and scary and it really isn't," says Cathy. Her fears almost got the best of her that first time. The second time, "there was nothing to fear." Now she's hoping to go back a third time and would love to retire in Cape Town.

[half]
[/half][half]
[/half]
Photo credits: Cathy Knelsen