As a young boy, Paul Popowich rode a 50cc dirt bike until he got too old for it. He dreamt of riding a Harley but that was beyond his means. Many years later, he learned to ride at a course offered at the Harley-Davidson dealer but didn't buy a bike and never rode.
Paul was busy with adventure travel of a different genre—kayaking. White water kayaking had taken him to Africa three times, to Bhutan, and numerous rivers throughout North America. But it was time to add another sport to his repertoire.
"Five years ago while attending a business meeting, I dropped in to Blackfoot Motorsports in Calgary and that was the start of my motorcycle revival. Blackfoot recommended I take lessons through Too Cool Motorcycle School and I haven't looked back.
"I met Rene at the 2018 Calgary Motorcycle Show, bought the University of Gravel Roads, really liked Rene's vibes, and wanted to travel with him. I understood when Rene advised that I not even think of doing a trip until I had some kilometers under my belt."
Pandemics have a way of sidelining the best laid plans so Paul didn't get in a lot of traveling. "I managed a bit of riding with the guys out to the mountains but no serious touring. I worked my way up to a Ninja 1000 ABS sport touring bike but wasn't a gravel rider before this trip. I was pretty green on touring in general."
Paul had always wanted to go to the Yukon and even Alaska if possible (it wasn't) so when the trip with Renedian became available, he signed up relatively close to the departure date.
North to the Yukon is a paved route, until the group decided on an optional excursion once in Dawson City. Nonetheless, he returned to Too Cool Motorcycle School for a course in gravel riding. Summer is road maintenance season in Canada and you need to be prepared.
"I've always enjoyed the north. Work has taken me to Hay River and Norman Wells, Northwest Territories, but my real appreciation came from family. My grandmother, parents, and grandparents are in Peace River, Alberta and they instilled a profound love of this land."
Smoke from forest fires hazed the sky early in the trip but once past Williams Lake, the skies cleared and the wilderness opened up to welcome riders through the interior of British Columbia.
"The beautiful stretch of road from Smithers to Stewart, right on the Alaska border, is breathtaking with glaciers on either side. We'd drive for ten minutes and pass one car and one bear. Once there, it felt like we'd stepped back in time. Our accommodations were like an old-school Klondike hotel. Totem poles in the First Nations coastal village stood as sentries at the inlet which gave us our only view of the Pacific Ocean.
"The next night we stayed in an historic Airforce Lodge in Watson Lake, run by an eccentric lodge owner. He's full of stories and it's well worth the trip just to hear them!
One story says that a homesick guy stationed there in 1942 put his sign up with the distance to his home. Since then, people from all over the world have followed suit."
John Wellburn, Renedian guide, told the group about a herd of wild bison he'd sighted east of the lodge.
Unable to pass that up, they saddled up for a side trip and were fortunate to catch sight of the majestic animals.
"Dawson City had a completely different frontier character. The streets were lively with buskers, music, and beer halls. There were lots of nice restaurants and many activities going on to celebrate Klondike days."
"We'd planned to do a walking tour but a decision to take an optional ride to the Alaska border and back on the Top of the World Highway took longer than expected and we got back too late."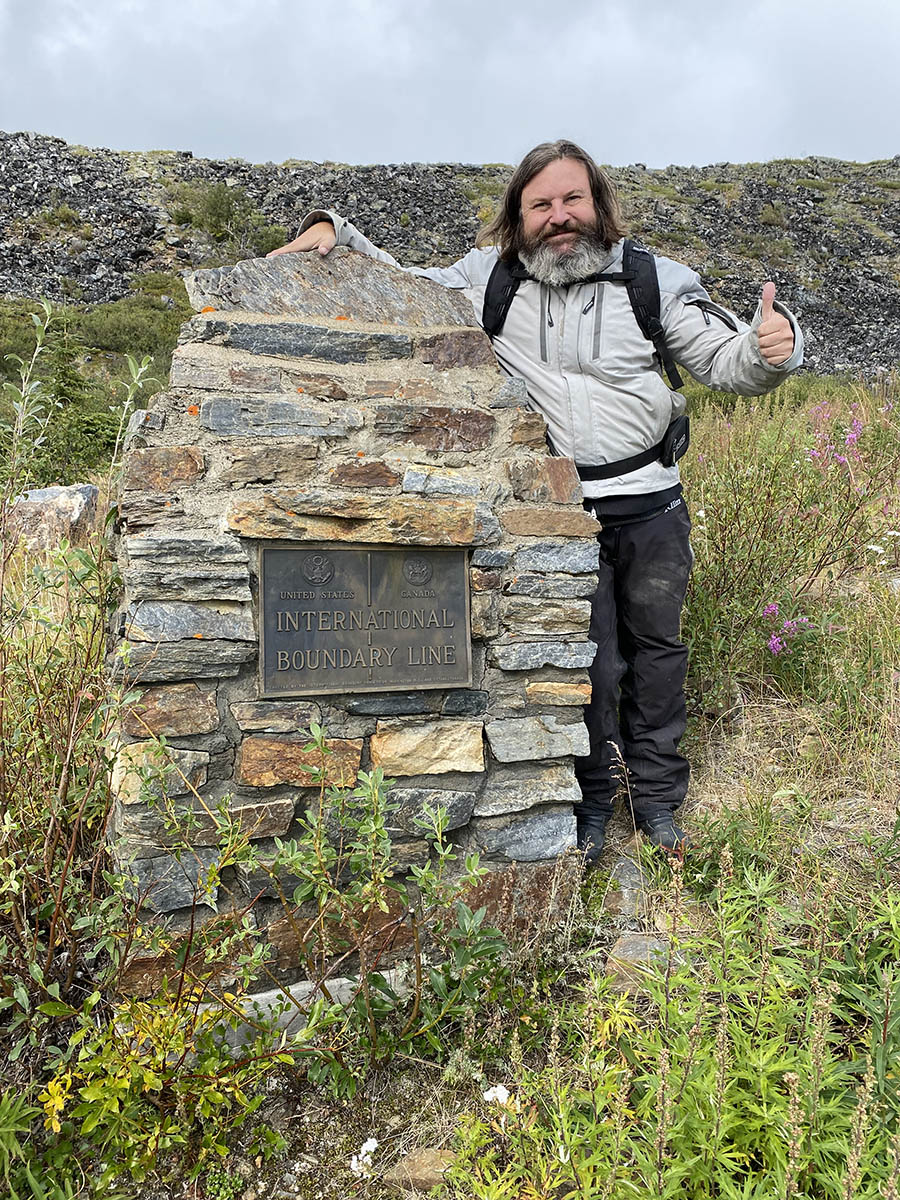 "That ride was spectacular—two and a half hours each way on a road that sits atop the mountains."
"You're always looking down and the panorama is spectacular. It's also when I was glad I'd brushed up on my gravel skills because there was a lot of road maintenance going on."
This was Paul's first long motorcycle trip and he says it was a lot like he'd imagined it would be.
"Knowing the next day you'd be riding on more incredible picturesque highways made anticipating what was next so great, all the while enjoying where ever I was at the moment. The comradery that developed in our group was also terrific."
"All in all, the trip was awesome. We rode over 4,000 km through pristine wilderness, mountains, lots of lakes, between glaciers, and along rivers. I'd like to go to Mongolia next or maybe even Africa. I've been there to kayak but being there on a motorcycle would be a different experience. Then again, I wouldn't rule out another Yukon trip if we could go to Alaska."
Photo Credits: Paul Popowich & Renedian