Name an adventure sport and Scott and Laurie Penwarden have likely done it. They love mountain and road biking, scuba diving, camping, stand-up paddling, rock climbing, and white water rafting. But the retired couple from San Diego had never experienced Africa and were curious about her wildlife. They'd wanted to go for a long time.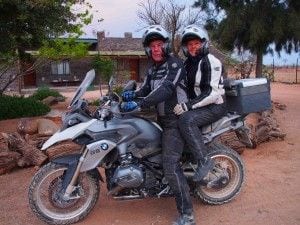 When a mutual friend who'd met Rene during his 'big trip' referred them to him, they prepared by reading The University of Gravel Roads, then went to Overland Expo to meet him. Deciding the trip was the perfect combination of wildlife viewing and motorcycling they signed up right there for the Victoria Falls to Cape Town safari.
If you're going to go all that way, they reasoned, you might as well book the longest trip. And more. They rented a car to extend their vacation for two weeks to take in sites like Port Elizabeth and the Elephant Park in South Africa.
"We have the money and we have the time," says Scott. "We're spending them on experiences while we're healthy."
Scott's been riding for 40 years and loves technical dirt bike riding. He's covered trails in Mexico and a lot of Idaho, Nevada, and Colorado on "mostly single track or multiple day off-road trips where you carry a backpack and stay in tree motels."
Although she rode her own motorcycle when they first got married, Laurie prefers to ride pillion. They've taken multiple trips to Europe, and ridden to Banff, Jasper, and along the Pacific Coast Highway. Touring and tent camping in the Pacific Northwest is a favorite excursion.
Nothing had prepared them for the thrill of southern Africa. Looking forward to the unexpected, Scott didn't even look at the itinerary before leaving. "There was no routine," said Laurie. "Every day when was different and always a phenomenal experience. That's what made the trip so exciting!" Scott echoed her enthusiasm. "I hardly remember riding the motorcycles that much. I just remember the daily experiences, especially meeting the people."
Wildlife encounters were almost non-stop. Only ten minutes into the trip they had to wait for elephants crossing the road. And then there were the zebras. It was a reminder to be very aware of their surroundings, keeping a particular eye out for animals.
In Victoria Falls they were warned to lock the doors against curious thieves. From their vantage point in the pool, they understood why. As much as they were watching, they were also being watched—by baboons. Seeing everyone in the pool, the big monkeys scaled the balconies, scouring the patios for anything that caught their eye.
Scott and Laurie are accustomed to traveling independently but weren't sure what to expect in a land and with cultures and languages foreign to anything they knew, so traveling with a group appealed to them. They thoroughly enjoyed the experience. Additionally, both were repeatedly impressed at how educated and friendly the African people were, and how safe southern Africa was. By the end of their Renedian tour, they were completely comfortable setting out on their own for two weeks.
Daily coffee stops, most often in the middle of nowhere, were a highlight—not necessarily for the break but what they'd find when they got there. "You might ride hours and see nothing," recalls Scott, " and then a little house appears. Buses and cars are parked out front, maybe an airplane out back, or people are walking there. They'd serve homemade biscuits, cookies, and go make a pot of fresh coffee. We met people from all over the world at those coffee stops."
For a couple who likes to be on the go, the trip was ideal. "Riding was a great part of the trip," recalls Scott. "The terrain was so varied and the mountain passes spectacular." During their off-bike time, they enjoyed touring an ostrich farm. Another day they hiked the
Soussevlei
in the morning, then with others on their tour, chartered a small plane to fly over the immense sand dunes and on to the coast.
They credit their active lifestyle with keeping them in shape and providing the energy to keep them from being too fatigued at the end of the day.
Now they're about to embark on another Renedian adventure, this time in Mongolia. Scott will ride the demanding terrain while Laurie rides in the support vehicle.
Photo Credits: Scott and Laurie Penwarden