Namibia is purported to have some of the most beautiful postage stamps in the world. But what's more fascinating are the stories behind the artful images they depict—plant and animal life, traditional cultures, history and landmark events. Many people are unfamiliar with Namibia—until they visit on our motorcycle safaris and fall in love with her.
This month, as if in a book, we read millions of years of geological processes in Vingerklip and Mûgorob, two giant rock formations.
Imagine a huge rock finger protruding from earth, pointing skyward. That's the image that comes to mind with Namibia's Vingerklip, and until 1988, Mûgorob. The former still stands but the demise of the latter is subject to much speculation.
As you stand there in the hot, dry desert it's hard to imagine the area cold, under water, or covered in ice. But the writing is in the rocks and their ancestry can't be denied.
Vingerklip protrudes 35 metres high and about 15 meters wide, balancing precariously on a hilltop in the valley of the seasonal Ugab River. Once a magnet for rock climbers, Vingerklip is now strictly off limits to these adventurers.
The monolith is also fascinating for geologists, who read its layers like a book. Packed within in its strata are stories compiled over millions of years, depicting how the landscape was formed. It's a tale of dramatic climate extremes, rising and falling sea levels, changing temperatures, movement and deposit of massive rocks by swift water, and the sculpting by erosion over lengthy periods of time throughout these mega natural cycles.
From Vingerklip's base, two other large terrace islands can be seen in the Ugab Valley, and as impressive as they are, they're flat topped and appear stable.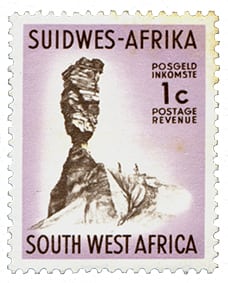 Although the translation is controversial, Mûgorob has come to mean the Finger of God by some, and there are those who say He shook it in 1988, sending the giant tumbling to the riverbed, shattering as it went. Prior to that, it stood 12 m high and 4.5 m wide, balancing on a narrow mudstone base. After defying sun, wind, and rain for thousands of years, there's a great deal of conjecture as to the reasons for its demise.
Scientifically, three factors offer a logical explanation. First was the rain, which fell during the days before the collapse, flaking off and dissolving the mudstone at its base and forming an extremely slippery mudslick.
Secondly, the rock tower created tremendous pressure on its own base, creating a fault plane at a 45-degree angle to the force. Eventually it had to give.
But it was likely an event occurring 7,500 km away that was the catalyst, although it wasn't immediately identified as such. The seismological station in Windhoek registered shock waves from a devastating earthquake in Armenia, measuring 6.9 on the Richter scale. Strong aftershocks lasted for about an hour, and when combined with the other factors, were enough to bring the colossus down.
Legends abound however, particularly because it was the time Apartheid was gathering energy. Was it a sign?
What's irrefutable is that both formations are testament to the forces of nature. As slow and imperceptible as they may be, geological processes are continuously at work, shaping our world.
Source: Stamps and Stories, Vol. 1, 50 Stories on Namibia's Postal Stamps, Gondwana Collection Namibia, & NamPost, 2012.