Sit down and chat with the convivial Yves and Beverley Gauthier and you'll soon sense their openness, curiousity towards life, and honesty. They're down-to-earth and love the simple pleasures in life.
Both originated in small town Canada, albeit at opposite ends of the country. Yves grew up in a log cabin Goulais River, Northern Ontario, logged at nearby St. Joseph Island and built by the whole family. His 80cc Suzuki helped him commute the thirty miles to part time work at a motel/gas station when he was sixteen. Beverley grew up in Oliver, southern British Columbia and got her motorcycle license when she was twenty.
Yves moved to Ottawa and joined the Royal Canadian Mounted Police (RCMP) where he rode a 1967 Harley, now on display in the RCMP museum in Regina, SK. In addition to traffic patrol and diplomatic escorts, he worked at the Prime Minister's residence when Pierre Elliot Trudeau was in office. His son, Justin Trudeau, Canada's current PM was a baby.
Beverley began her career as a dental assistant, then moved to orthodontics before changing direction and becoming the catering manager of a golf and country club.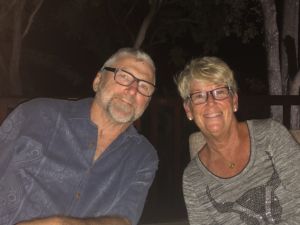 Longing to live and work in warmer weather, Yves requested a transfer from Ottawa to Florida for five years without success. A vacation in California and Mexico opened him to finding a more temperate climate the west coast. "At the time, no one wanted to come to the lower mainland so I got stationed in Langley, my first choice."
There the two met and began sharing life's escapades. Yves opted for a BMW as his personal bike and Beverley preferred to ride as his passenger. On a trip to northern California in 1985 that coincided with Beverley's birthday, Yves got her a cake with instructions to make a wish and he'd make it come true. Her wish was to marry him. The engagement rings they still wear were fashioned from a black BMW o-ring and 14 and 17 mm nuts with a hammered finish. Hers is inscribed with Beverley Makes Wish (BMW) July 31, 1985. His seals the deal with Beverley My Wife (BMW), December 7, 1985.
They took pride in riding year-round to places like Whistler, Mount Baker, and longer forays, like their five-week trip to Cabo San Lucas in Baja. Yves' work took him all over the world, but until their trip to Africa, they'd never ridden outside of North America.
"We retired and it was time to do something grandiose," says Yves. "It's prohibitively expensive by our standards; a once in a lifetime trip. But it had been on Beverley's bucket list for ten years and she'd been saving. So, we decided to book the Waterfalls and Wildlife tour."
The experience was, of course, beyond their wildest dreams.
"We came into camp in the Okavango Delta after watching animals all day, to a roaring campfire with chairs around it, the dining table set with a table cloth and candles," said Beverley. "It was like a scene from Out of Africa! Then the stars came out. Pure magic!"
Their down-to-earth approach helps form bonds based on mutual trust and respect. While out for a walk, he met a local rural family and asked if he and Beverley could come back. What ensued was a touching visit none will forget, including Yves being allowed to take the man's old dugout canoe on the Zambezi River above Victoria Falls.
A middle-of-the night experience in the Okavango Delta brought Yves back to the reality of where they were. "We were told the local guides would be keeping the fire going all night to keep the animals away, and always use your headlamp when you get up to use the toilet. When I went out at 2:30 wearing only my headlamp, a jacket, and shoes, the fire looked a little sad. I threw some wood on to get it roaring again and sat in a chair to watch. That alerted the guide who knew what the fire should be doing at that time and he came and directed me back to my tent. I'd felt relatively safe but it could have been precarious."
All ended well and Yves and Beverley capped off an incredible vacation with a week's stay in Cape Town where he developed a taste for Pinotage.
"Every day of my life I thank God for how fortunate I am," says Yves.
"Beverley sums it up. "Trips like this teach us a lot about the simple things in life and what's important."
Photo credits: Yves and Beverley Gauthier