Mike Higgs: Worldwide Crew Member in Southern Africa
Who knew that bachelor parties were business-networking opportunities? It was at such an event five years ago that Mike Higgs met Rene. Soon after, he began driving Renedian's support vehicle around southern Africa.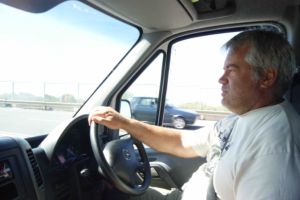 Mike's father was running a train station in Lesotho when Mike was born in South Africa. The family lived between Johannesburg and Lesotho before moving to Cape Town. With conscription in effect, Mike followed graduation from secondary school with two years in the army. After that, he admits he was a little lost, working at odd jobs before starting a furniture moving company with a friend. Still restless, he left that and worked for FedEx for the next eighteen years.
He dabbled with a few small businesses, including mushroom distribution, all of which, for various reasons, lasted only a short time. Eight years ago, he began purchasing used oil from KFC restaurants and selling them to bio-diesel manufacturers. He now contracts with fifteen shops and balances his enterprise and work with Renedian.
Mike's foray into tourism began while he was still at FedEx and his sister began a golf tourism company. The initiative got put on hold when her husband was transferred to America but she continued to send people to South Africa and he'd take them on tours. It whet his appetite and five years ago, he began driving overland trucks for another tour company. "I was ready for a complete change of life," says Mike. "I've always enjoyed meeting people and introducing them to the landscape, culture, and people of southern Africa. I wanted to travel more and see our neighbouring countries."
Watching wildlife tops Mike's list of interests, especially the extraordinarily special moments. Like the time during a game drive when they came upon three male elephants jostling for dominance. "They were pushing each other around and the alpha male ended up right in front of us. He used the same scare tactics on our vehicle that had been successful with his counterparts, flapping his ears, trumpeting, and staging a mock charge. Safari guides are well versed in diffusing these situations and ours used his best elephant tactics to convince him to leave."
Another time we'd just gotten into the vehicles and rounded a corner when we came upon a couple of lions, lunching on a fresh kill they'd stolen from a leopard. Five hundred metres down the road, we caught up with the defeated cat. Hissing and growling, likely sore about his loss but wise enough to know not to tangle with lions, he carried on, climbed a tree, and went to sleep."
Mike rode a 50cc bike while in school, but didn't have a desire to ride a bigger bike until 2017. It may be the beginning of a new era for him.
"Rene's clients are always very nice people. Many of them are similar in approach to English-speaking South Africans, and they always have a great sense of humour. We give them our best and answer as many questions as we can. The driving does get long though and after two weeks of sitting in the van, you can go a bit crazy.
"Music keeps me sane but my play list, which varies from reggae to rock, needs updating. I just saw Bohemian Rhapsody so maybe I'll add some Queen."
Photo credits: Mike Higgs