The Stories Behind the Folklore
Guests on Renedian's  Journey to Ushuaia trip will see many Argentinian estancias, and if you're lucky, traditional beret-topped gauchos on horseback. The image evokes the folklore and identity of a North American ranch, complete with cowboys on horseback. You'll even spend one unforgettable night at the Estancia La Angostura, a working estancia.
What would come to be called estancias appeared during the Spanish colonization in the 16th century. Conquistadores and explorers received large tracts of land on the vast grasslands of the pampas as rewards for their service. As in other parts of the world, that land was originally occupied by Indigenous people.
Land became designated either for agriculture, or estancias, which specialized in breeding. The smallest size was 2,025 hectares, based on pastureland to support 800 to 1,000 cattle, but they could be as large as 250,000 hectares.
Under colonial rule
Under Spanish colonial rule, the Spanish introduced cattle for livestock, allowing them to roam free. The first estancias bred sheep for wool, and cows for meat, fat, and tallow. Settlers would conduct periodic raids to capture and slaughter them for food.
These livestock estates passed from one generation to the next. Over time, this led to the formation of aristocratic landowners, some of whom still exist.
Early 19th century
During the early 19th century, agriculture evolved in response to the demand for breeding and exports. Structured ranching ventures, now formally identified as estancias, began to take shape. Permanent buildings, barbed wire fences, mechanization for sheep sheering, and stables appeared. Livestock were branded to define ownership.
The term gaucho, similar to the identity of a cowboy, defined ranch workers on horseback. Reputed as brave and unruly, these skilled horsemen evolved into a national Argentinian symbol. Their lives continue to be retold in stories and legends and they are still very much a part of a working estancia.
More recently, the area's high soil fertility has led to an intensified agricultural industry in the pampas and a shift to crop farming.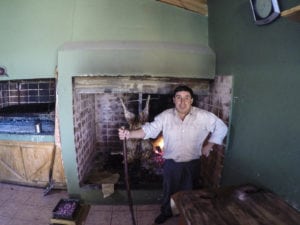 There are still many working estancias all around Argentina. Some of the oldest are around San Antonio de Areco. A number now take in guests to allow them to discover rich cultural customs and traditions. Many are known for their excellent cooking. Barbecued fresh local lamb and beef with vegetables from the garden is standard fare. It's also common to find a group of people and guitar music around an evening fire.
Estancias play a significant part in Argentina's culture, economy, and history. From their start in the 1600s, they've made Argentina one of the biggest meat and grain producers in the world.